Disposable PE gloves are made of health tissue materials. They are not allergic, regardless of left and right hands, cheap, seamless, and have good waterproof technical performance. The surface has a dot pattern, which is non-slip, easy to open, and left and right hands can be mixed. After the verification of the safety system of Chinese food companies, safety is guaranteed! It is suitable for vocational education for nursing staff, hotel management and catering, barbecue picnic, beauty salon, paint painting, gardening and cleaning, food company processing plants, etc.

Advantages of disposable PE gloves:
1. Closest to natural glue, environmentally friendly, clean, no odor, moderately soft, smooth and comfortable to wear
2. Non-irritating, non-allergenic, non-toxic, reusable, biodegradable and recyclable
3. Oil resistance, water resistance, acid and alkali resistance
4. Universal between men and women, suitable for a variety of hand shapes, quality can be guaranteed, good quality and low price
5. Thick and good tensile strength, thick thickness, not easy to damage
6. It shows a clearly visible embossed texture, skin-friendly, non-slip and comfortable, as a second skin care tool
7. Good materials, carefully selected product formulas, advanced technology, durability, and comfortable life.
8. Water-impermeable, clear seal, strong barrier, better to avoid water and oil infiltration
9. Workers and farmers can use it professionally, are versatile, healthy and safe, use more mature, and have a relatively high recognition of a wide range of applications.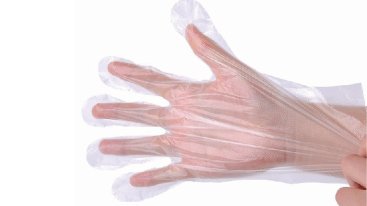 Disadvantages of disposable PE gloves:
1. Relatively thin, not suitable for long-term use, suitable for one-time use
2. Elastic gloves are poor, so they are not suitable for use in sophisticated and harsh environments.  
3. Avoid touching the fire source, perhaps for high temperature, because it is a plastic product, it is flammable, it will smell after incineration, and the smell contains a small amount of harmful gas
4. Made of polyethylene, although it is non-toxic and tasteless, if it is discarded after use, it is not conducive to environmental cleaning and maintenance
5. Long-term use is not recommended, which will affect the breathability of the skin. If you are allergic to PE plastic, you should pay attention to it. It is generally not recommended to wear gloves for a long time.